Chiropractic Care: Your Rockwall Chiropractor Can Ease Your Pain
Chiropractic Care: Your Rockwall Chiropractor Can Ease Your Pain
Written By Rockwall Elite Healthcare on February 17, 2020
---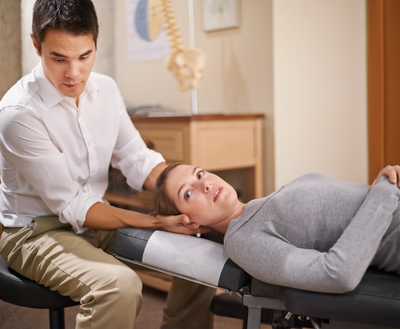 Chiropractic treatment can be the key to less pain and better overall health.
Chiropractic therapies can have a profound effect on your life. Your Rockwall chiropractor can help you find relief from chronic headaches, muscle spasms, and pain caused by herniated discs.
Millions of people have seen the value of chiropractic care in their lives. Are you ready to see it in yours?
The Goal of Your Rockwall Chiropractor
Chiropractic is a form of complementary and alternative medicine that focuses on the musculoskeletal system and, by extension, the nervous system.
Your Rockwall chiropractor's goal is to diagnose any abnormalities or trauma sustained in these systems and repair them.
Because your chiropractor adjusts the spine, many people misunderstand just how comprehensive chiropractic care really is. They think all a chiropractor does is treat conditions of the neck and spine.
While it's your provider's goal to reduce the pain in your back and neck, they can do so much more, including:
Optimize your overall health

Improve digestion

Increase immune function

Streamline the elimination of toxins

Promote proper circulation

Increase energy
How Chiropractic Treatment Works and Why It's Beneficial
When your spine is out of alignment, it can lead to two main problems.
First, misalignment causes tension on the muscles, tendons, ligaments, and joints. So, you end up with sore, tight muscles and headaches, as well as numbness and tingling in your extremities. You're also prone to injury.
Second, misalignment can lead to nerve impingement, which causes a two-fold problem. Nerves are sensitive. If there's impingement, you can end up with debilitating, life-altering pain. Additionally, impingement prevents the proper flow of both the nerve signals and the cerebrospinal fluid (CSF).
When nerve signals are disrupted, it can cause problems like poor digestion.
The CSF carries nutrients to the nerves and brain. It also flushes out toxins. Nerve impingement can reduce the level of nutrients you receive and lead to a build-up of toxins, both of which can bring about lowered immunity and other health problems.
When your Rockwall chiropractor adjusts your spine, they put it back into proper alignment. Doing that will reduce pain and improve nerve function and your overall health.
Rockwall Elite Healthcare – Their Commitment to You
Besides the front office coordinator, the team at Rockwall Elite Healthcare consists of a medical doctor, a nurse practitioner, and two chiropractors. Everyone on the team is committed to providing you with the very best service.
Why is this so important to them? It's because they take pride in their work and want to help those in their community live full, healthy, pain-free lives. They appreciate the massive impact chiropractic treatment can have on a person, and they want you to benefit from their collective knowledge and years of experience.
Are you ready to see how chiropractic treatment can make a difference in your life? Contact us today at 972-961-0673 to schedule an appointment.

Posted In: Chiropractic