How Can Shockwave Therapy Help You?
How Can Shockwave Therapy Help You?
Written By Rockwall Elite Healthcare on March 3, 2022
---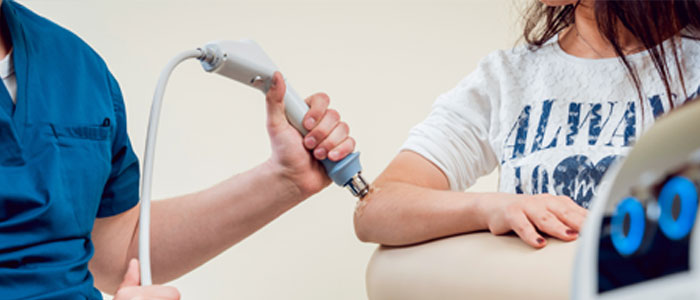 Your soft tissue injury can hinder your overall mobility and general quality of life. Whether your injury is mild or severe, any amount of pain, stiffness, or discomfort can have a huge impact on your day-to-day activities - and if you have a physical job, you may not be able to work. At Rockwall Elite Healthcare in Rockwall, TX, our shockwave therapy treatments can accelerate your healing process and get you back to doing what you love.
What is shockwave therapy?
Shockwave therapy is an advanced medical treatment that is designed to promote faster healing and speed up your recovery process. It is a completely non-invasive process that does not utilize any surgery or needles, making it ideal for patients who are hesitant to undergo a surgical procedure. Most patients will see results in just a few treatments - some may even experience pain relief after their first session. Appointments will usually take place once a week, but your medical practitioner can further advise you on your ideal treatment schedule.
How does shockwave therapy work?
At your shockwave therapy session, your medical practitioner will gently apply a small handheld instrument to the affected area. The instrument provides a series of low-intensity shock waves that deliver high energy bursts to your injury. These shock waves are able to penetrate soft tissue at a deeper level, promoting a higher rate of cellular regeneration. The process also encourages improved circulation, increased blood flow, collagen stimulation, and the reduction of scar tissue.
What conditions does shockwave therapy treat?
Shockwave therapy is primarily used for the treatment of soft tissue injuries. It can relieve the symptoms of conditions like tennis elbow, chronic inflammation, muscle strains/pulls, foot or heel pain, muscle spasms, tendonitis, and musculoskeletal pain. If you believe you may be a good candidate for shockwave therapy, don't hesitate to reach out to our office. One of our medical professionals can evaluate your condition and help you determine the perfect treatment plan.
Schedule an Appointment
Kickstart your healing process with our professional shockwave therapy treatments at Rockwall Elite Healthcare in Rockwall, TX. For more information on our chiropractic services or to schedule an appointment with one of our medical practitioners, call (972) 961-0673 or send us a message here.

Posted In: Chiropractic Shockwave Therapy Injury Treatment Tennis Elbow Chronic Inflammation Muscle Spasms Tendonitis