Why Choose Rockwall Elite Healthcare for Chiropractic
Why Choose Rockwall Elite Healthcare for Chiropractic
Written By Rockwall Elite Healthcare on April 25, 2022
---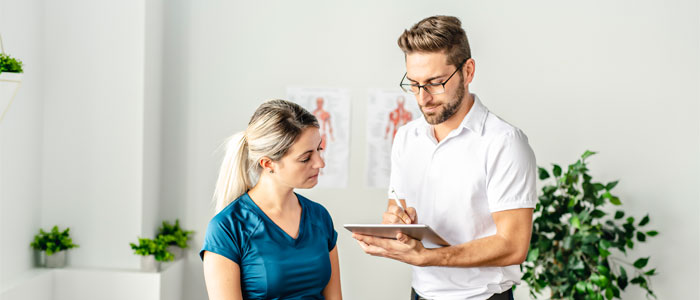 There are plenty of chiropractic offices in our community, but only Rockwall Elite Healthcare can provide you with the highest level of personalized care from a team of certified medical experts. Find out why you should choose us to be your Rockwall chiropractor.
In-Depth Consultation
Your first visit with your Rockwall chiropractor will consist of an in-depth consultation that allows our team to identify the root cause of your individual symptoms. We will conduct a wide range of orthopedic and neurological tests to fully evaluate your medical condition. Initial consultations last about 75 minutes. This extra time allows us to explore every possibility and hone in on the most effective course of treatment.
Personalized Recovery Regimens
You have unique medical needs - why should your treatment plan be generic? Every patient at Rockwall Elite Healthcare receives a customized chiropractic regimen that specifically targets their individual needs. If you do not feel comfortable with a certain course of treatment, your recovery team will work with you to find a suitable alternative.
Supplementary Services
Many patients find that the benefits of their chiropractic sessions are enhanced by our other services. In addition to chiropractic care, we provide advanced medical treatments like spinal decompression, regenerative medicine, cold laser therapy, active release technique, and physical therapy. Your chiropractor and our team will create a personalized regimen of treatments and modalities to ensure that you receive optimal results.
Multi-Disciplinary Practice
Our team at Rockwall Elite Healthcare consists of a wide range of healthcare professionals who can offer unique insight into your condition. In addition to our chiropractors, our staff also includes an MD and a certified family nurse practitioner. Our team is dedicated to enhancing your well-being through effective, compassionate care.
Accessible Payment Options
In order to make our services accessible to everyone, we accept most major insurance policies. Give us a call to find out if we take your insurance policy. If not, we can work out a flexible payment plan.
Schedule Your Chiropractic Appointment Today
Relieve your pain and elevate your overall well-being with our professional chiropractic treatments at Rockwall Elite Healthcare in Rockwall, TX.
For more information on our chiropractic services or to schedule an appointment with one of our medical practitioners, call (972) 961-0673 or send us a message here.

Posted In: Chiropractic Spinal Decompression Physical Therapy Cold Laser Therapy Active Release Technique Regenerative Medicine