Does Chiropractic Help You Avoid Back Surgery?
Does Chiropractic Help You Avoid Back Surgery?
Written By Rockwall Elite Healthcare on November 30, 2020
---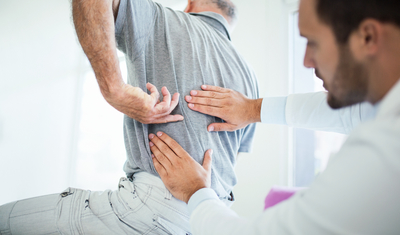 Your back provides your body with the necessary support and strength to help you take part in your favorite daily activities. However, with 35% of all chiropractic visits centered on back pain, it's a common issue that affects millions of Americans. Whether you're experiencing acute or chronic pain, chiropractic care provides natural treatment alternatives that help you avoid back surgery and over-the-counter medication.
What is Chiropractic?
Chiropractic care is a non-invasive and non-surgical treatment solution that focuses on your body's natural ability to self-heal. Chiropractors believe in treating your entire body by strengthening the relationship between your spine and nervous system. By aligning your musculoskeletal structure, chiropractic relieves:
Back pain
Neck pain and text neck
Sciatica
Headaches and migraines
Knee pain
Car accident and sports injuries
Health Benefits of Chiropractic
When you routinely visit your Rockwall chiropractic, you will receive treatment that helps you avoid back surgery and find optimal wellness. Chiropractic provides the following benefits:
Decreases inflammation and swelling
Increases range of motion and performance
Reduces pain and discomfort throughout your body
Provides a natural alternative
How Chiropractic Helps You Avoid Back Surgery
Chiropractic helps you avoid back surgery by naturally reducing your pain and inflammation, along with preventing future injuries from occurring. Your chiropractor at Rockwall Elite Health will perform a comprehensive physical and medical history examination to identify the root cause of your back pain. Instead of just focusing on the symptoms, your chiropractor will develop a personalized treatment plan that provides long-term pain relief.
Your chiropractor may recommend the following treatments:
Spinal adjustments: Utilizes controlled force to realign your spinal vertebrae and improve your range of motion.
Spinal decompression: Uses a motorized table to gently relax your spine and promote healing nutrients.
Regenerative medicine: Injects platelet-rich plasma (PRP) into tissues to increase the healing process.
Chiropractic treatment aims not only to give you pain relief but also to ensure you reach optimal wellness.
Discover How You Can Avoid Back Surgery in Rockwall
Back surgery isn't your only option. If you're experiencing pain or discomfort, chiropractic offers a natural treatment approach that helps you avoid back surgery and return to your original functionality. The doctors at Rockwall Elite Healthcare will diagnose your back pain and develop a treatment plan that targets the cause of your pain so you can get back to your normal life.
Schedule a consultation with Rockwall Elite Healthcare today to find back pain relief!

Posted In: Back Pain Treatment Chiropractic Help Avoid Surgery